Scholars Fund
Minority children in Vietnam suffer. Due to their families' poverty, they often have to work for the family income. Sometimes they get married at a very young age, which minimises their chances of improving their situation.
Because of all this, some of the children do not attend school or only do so on a limited basis. Lien Doi encourages the schooling of these children by contributing mo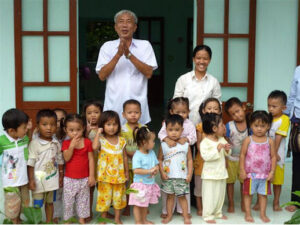 nthly to the income of cash-poor families. We do this through the Scholarship Fund.
Currently, Lien Doi supports 60 children with this fund, usually from the beginning of primary school until the completion of secondary school. Per child, 15 euros per month is contributed to the family income. For acute problems in the families, such as illness, Lien Doi Vietnam reserves an additional amount.
Contact with the foster children and their families is through the staff of Lien Doi Vietnam. This way, sometimes a
lso through field workers, they keep track of the situation. Twice a year, Lien Doi Netherlands is informed about the children's developments. A few children are asked to tell something about their lives and what school means to them.
The result of our efforts: hundreds of children have been able to complete primary and secondary education, giving them a much better starting position for work or further education.
In principle, a child is eligible for our schooling programme up to the age of 18. In consultation with Lien Doi Vietnam, we determine whether further support is provided afterwards.
Study fund
Besides the Scholarship Fund, our foundation also has a Study Fund to support a limited number of young people who would like to continue their studies, but do not have the financial means to do so. To study, they usually have to leave their native village and seek accommodation in a bigger city. We help them with a scholarship of between two hundred and five hundred euros per year throughout their vocational training or studies. This modest amount is sufficient to cover study costs and part of living expenses.
Lien Doi Vietnam assesses applications and also maintains contact with these students throughout their education. Students are expected to make their own financial contribution to the scholarship fund once they have found a job after their education, so that other young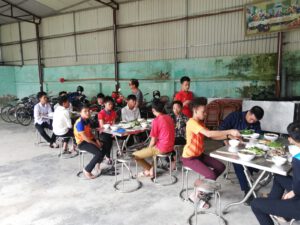 people from poor families can also study.
Meanwhile, thanks to our scholarships, dozens of students have been able to complete their education as nurses, enginee
rs, tourism workers, teachers, accountants, etc.
Would you like to make it possible for more children from poor families in Vietnam to go to school? Or would you like to help pay for a student's scholarship? Then support us with a donation for this purpose. You can click here to download the donation form. Support a child in Vietnam!
With the following movies two students introduce themselves to you.