Welcome at Lien Doi
Lien Doi, Vietnamese for solidarity, founded in 1980, is a small scale independent development organisation.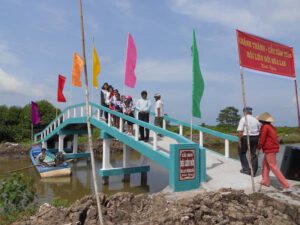 Lien Doi supports poor people in Vietnam, mainly ethnic minorities living in the mountainous areas and rural parts of the country. Far away from cities and often without adequate infrastructure.
We support small scale projects that can help people out of poverty and contribute to their health and safety. We do this by building houses, multifunctional village halls and school classrooms, constructing connecting roads and bridges to open up villages, and building water purification plants. We also provide microcredits, and finance scholarships for schoolchildren and students.
Both Dutch and Vietnamese volunteers are committed to improving the living conditions of these people.
The projects are proposed by our Vietnamese volunteers and in the Netherlands we provide the necessary funding. The more people feel connected to our goals, the more we can do for the poorest people in Vietnam.
On this website you will find information about all our projects.